AS Stik offers body and paintwork repairs for automobiles, light commercial vehicles and SUVs of all makes.
In case of a traffic accident, we recommend that you notify your insurance provider as soon as possible and, if possible, fill in an Accident Report Form that may be downloaded here.
Service centres of Stik AS process all necessary paperwork!
We cooperate with all the insurance providers in Estonia.
We offer direct handling of traffic accident damages, which means that you do not have to present your vehicle to the insurance provider, but may contact us directly.

Coming to our service centre, you will need the following:
your vehicle (if possible)
the registration certificate for your vehicle
your driver's licence
accident report form (if completed)
other documents pertinent to the case
We will calculate the repair costs and submit the documents and pictures of the damaged vehicle to the insurance provider.
Claims handling at Stik AS:
STIK RAKVERE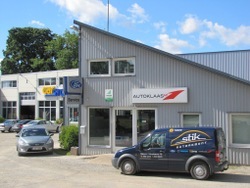 Vabaduse 12, RAKVERE
44308 Lääne-Viru County
Mon-Fri 9:00-18:00
Check the location on map

Aarne Mägi
Body and paintwork repairs foreman
Phone +372 3255507
GSM +372 53285480
E-Mail: aarne@stik.ee
STIK PAIDE
Pärnu 57a, PAIDE
72712 Järva County
Mon-Fri 8:00-17:00
Check the location on map

Monika Tankler
Bodywork repairs consultant
Phone +372 3846085
GSM +372 5042366
E-Mail: monika@stik.ee
STIK ROOSNA-ALLIKU
Pärnu mnt.7, ROOSNA-ALLIKU
73201 Järva County
Mon-Fri 8:00-17:00
Check the location on map

Monika Tankler

Bodywork repairs consultant
Phone +372 3895369
GSM +372 5052166
E-Mail: monika@stik.ee
Partners:
| | | | | |
| --- | --- | --- | --- | --- |
| | | | | |
| If P&C Insurance AS | | RSA Kindlustus | | Swedbank P&C Insurance AS |
| | | | | |
| | | | | |
| BTA Kindlustus | | Seesam Insurance AS | | ERGO Kindlustus |
| | | | | |
| | | | | |
| Gjensidige Baltic Kindlustus | | Inges Kindlustus | | Salva Kindlustus |